Who are we?
Architects Interior Designers Masterplanners

Established in 1947 : James Cubitt & Partners Ltd is an international multidisciplinary consultancy practice having extensive experience in the design and supervision of a wide variety of building projects and the master planning of major building complexes for health, education, tourism, commerce, retail, industry and housing.

The current directors have all been with the firm for many years and have been directly involved in our project designs, management and supervision.

We are committed to continually updating and improving our professional skills base, and we successfully research, develop and sustain outstanding professional knowledge appropriate to the needs of the group.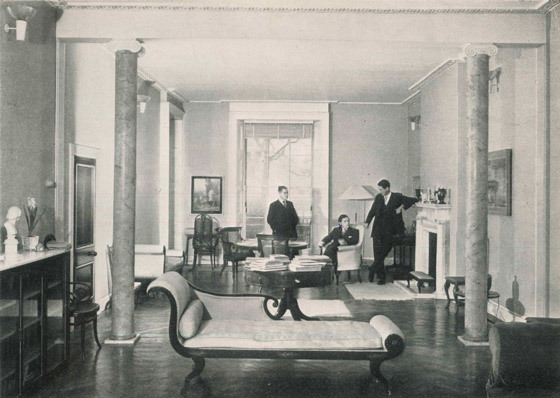 Reprinted from ''Architecture & Building'' March 1956
In James Cubitt's Nash Villa at York Terrace, Regents Park - Three of the Founding Partners :
Left to right: Fello Atkinson, James Cubitt & Dicky Maitland.
What do we do?
Residential Healthcare Education

James Cubitt & Partners Ltd has designed a full range of buildings and complexes from junior schools to universities, from individual shops to markets, from the interior of an office to headquarters office buildings, from minor clinics to teaching hospitals, from small workshops to major manufacturing complexes, from individual houses to large estates, hostels, hotels and towns.

With our head office in London, and our branch offices in the Middle East, West and East Africa and Australia and associations in India, Egypt, Belgium, Poland and Ghana, we offer a full range of professional building consultancy services, including project management and contracting services to support turn key projects.

We have branch or associated offices in United Arab Emirates, Qatar, Australia, Nigeria, Kenya, Egypt, Libya, Belgium, and Poland.

James Cubitt & Partners Ltd have extensive experience of starting up offices in many countries around the world, to support large projects they have been awarded.
Mission Statement
Leisure
Commercial
Industrial
To deliver excellence in all building consultancy disciplines and project management services and to do this in full satisfaction of every client brief.
To continually update and improve the professional skills base, and successfully research, develop and sustain an outstanding knowledge base appropriate to the needs of the group.
Our Approach:
Responsiveness to the clients functional requirements
A considered and expressive approach to design
Recognition of financial constraints
Commitment to clearly define management objectives and quality systems
Commitment to the client throughout the whole project delivery process from project initiation to completion.